Memorial Day in Waregem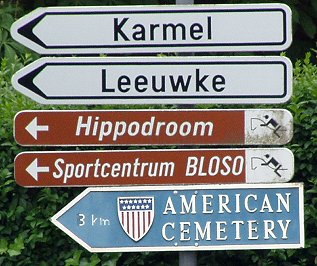 One Sunday around 1970, I was biking around our house when I saw a helicopter land in a field nearby. Curious, I approached it. A few seconds later, I stood almost eye to eye with someone who seemed to be a very important man, surrounded by bodyguards and military men. It was David Eisenhower, son of the U.S. ambassador to Belgium John Eisenhower, grandson of the late president Eisenhower, and son-in-law of Richard Nixon, so I read in the newspaper the next day. What had brought him to my humble town of Waregem? It was Memorial Day, and I'm living less than one mile from the American Cemetery "Flanders Field". It is the smallest American cemetery in Europe, with only 368 graves from World War I. Each year on Memorial Day, a rememberance service is held. No helicopter this year, as U.S. ambassador Tom Korologos arrived by car, a BMW.
The presence of the American Cemetery in my town had some impact. I could sing the U.S. national anthem earlier than the Belgian national anthem, the
Brabançonne
. That's because children in Waregem learn the Star Spangled Banner in school, to sing it at the memorial service, a tradition since 1937. On Memorial Day, fighter jets are roaring the skies when they fly over in the "missing man formation", and the surroundings of the cemetery are crowded with army vehicles with the funny inscription "for official use only". This Sunday, I went to the memorial service and took some pictures.
[Tags:
Memorial Day
Waregem
NATO
]
BUT FIRST, A POEM
One of the 368 soldiers who are buried at Flanders Field American Cemetery in Waregem, is Kenneth MacLeish, a pilot. He died in 1918 when his plane was shot by German gunfire near the harbor town of Nieuwpoort. His brother, captain Archibald MacLeish, became a famous poet and a Librarian of Congress. After he attended Memorial Day in Waregem on August 8, 1937, he wrote a poem titled "Memorial Rain". Here is a small quote from that poem:
Ambassador Puser the ambassador
Reminds himself in French, felicitous tongue,
What these (young men no longer) lie here for
In rows that once, and somewhere else, were young...

All night in Brussels the wind had tugged at my door;
I had heard the wind at my door and the trees strung
Taut, and to me who had never been before
In that country it was a strange wind, blowing
Steadily, stiffening the walls, the floor,
The roof of my room. I had not slept for knowing
He too, dead, was a stranger in that land
And felt beneath the earth in the wind's flowing
A tightening of roots and would not understand,
Remembering lake winds in Illinois,
That Strange wind. I had felt his bones in the sand
Listening [....]

In the gripe rain
The wind coiled glistening, darted fled,
Dragging its heavy body: at Waereghem
The wind coiled in the grass above his head:
Waiting - listening...
THE PICTURES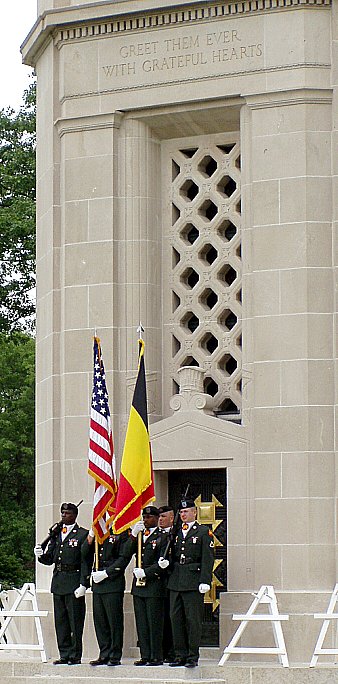 The memorial with chapel inside, designed by architect Paul Cret and inaugurated in 1937.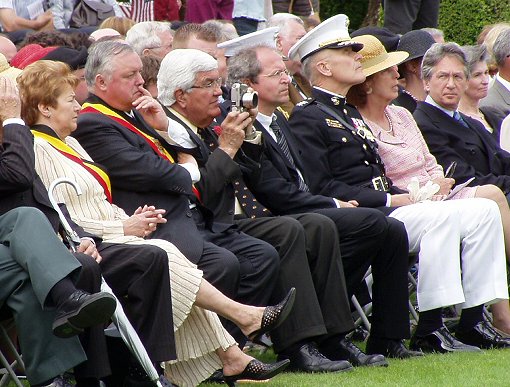 Some important guests at Memorial Day 2005 - left to right: Yolande Dhondt (mayor of the city of Waregem), Paul Breyne (governor of the province of West-Flanders), Tom Korologos (US ambassador to Belgium), Renaat Landuyt (Belgian minister of Mobility), general Edward Hanlon jr. (US military representative to NATO), Mrs. Hanlon, Erik Derycke (judge at the Belgian Constitutional Court).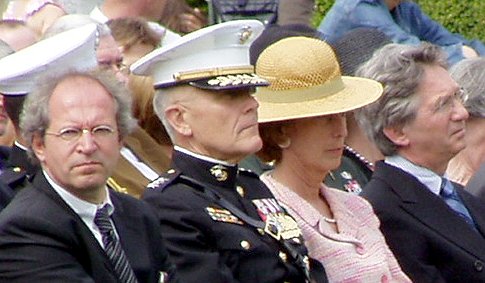 Belgian socialists flanking the U.S. military - left to right: Renaat Landuyt, general Hanlon, mrs. Hanlon, Erik Derycke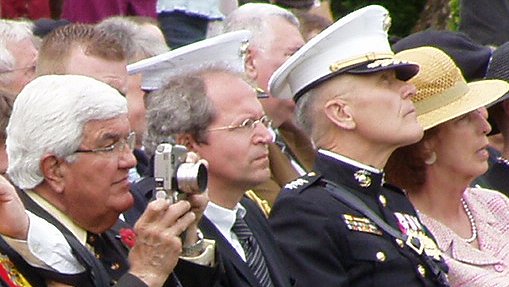 Close-up of ambassador Korologos taking pictures, Renaat Landuyt, general and mrs. Hanlon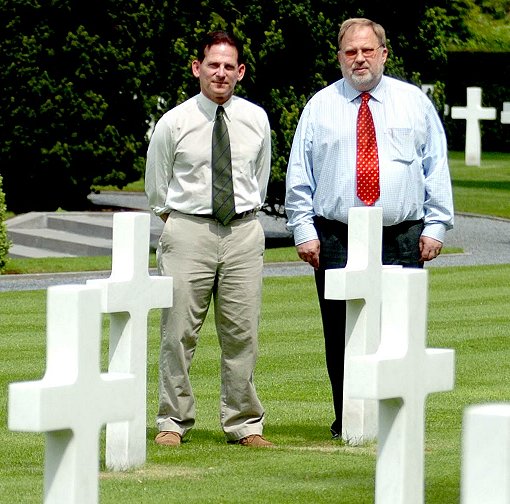 These men are running the cemetery on a day-to-day basis: superintendent Hubert Caloud and guide Christopher Sims. Photo copyright David Stockman, all rights reserved.
Apart from these two men, the cemetery employs a mechanic, a mason and two gardeners.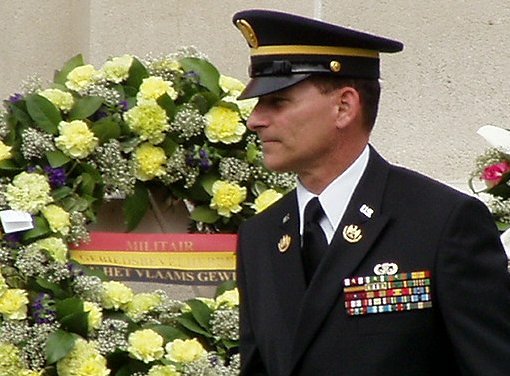 Before working with the American Battle Monuments Commission, superintendent Hubert Caloud served 30 years in the US Marine Corps.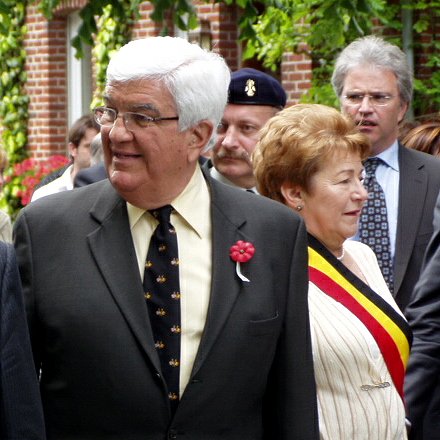 Ambassador Tom Korologos, mayor Yolande Dhondt, member of Flemish parliament Carl Decaluwe.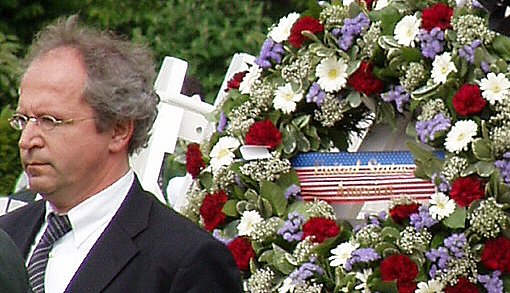 Minister Renaat Landuyt.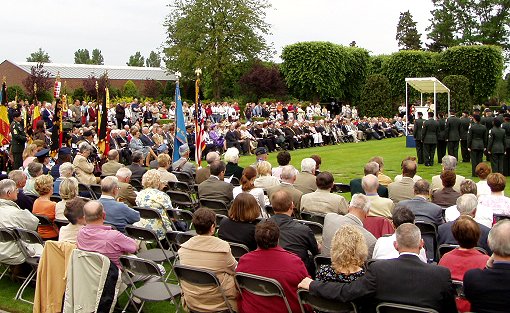 The public.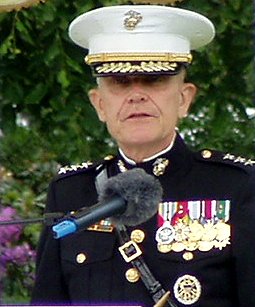 General Edward Hanlon jr.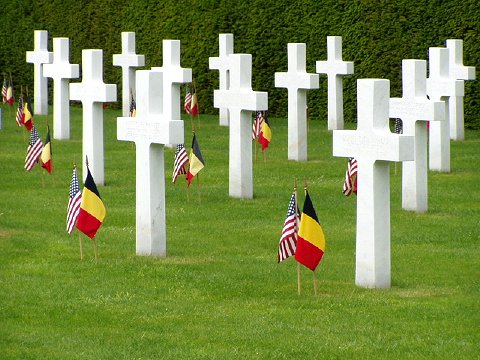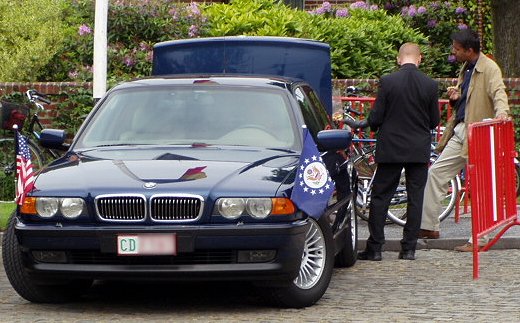 Sources:
Memorial Rain - Waregem 1914-1918, published by the city of Waregem.
Marine Hubert Caloud beheert Amerikaans kerkhof
, article by Hendrik Ghistelinck, Het Nieuwsblad, May 27, 2005.