Condi for Veep?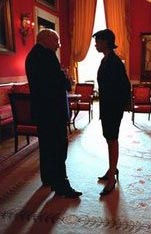 So Dick Cheney shot a fellow hunter instead of a
Quayle
quail
. An unfortunate accident,
grasped by the Democrats
to further undermine public trust in the presidential team. But, who knows, maybe something good will come out of this. What if Cheney resigns and Condoleezza Rice succeeds him?
This is exactly what Dr Jack Wheeler, the "Indiana Jones of the Right", predicted exactly one year ago. The only difference is that he put the blame on Cheney's heart instead of his shooting skills. On 16 February 2005, Wheeler quoted an unnamed Washington insider on
his subscription-only website
:
We all know that Dick Cheney has been the best vice president of modern times, perhaps in American history. And we know that he absolutely will not run for president in 2008. Further, he has an unfortunate history of heart trouble. So let's just say none of us will be surprised if, sometime next year, he will step down from the vice presidency due to his health. Should this happen, President Bush would need to appoint his replacement, just as Richard Nixon chose Gerald Ford to replace Spiro Agnew. It is quite clear to us whom the president would choose should he need to: Condoleezza Rice.
Wheeler thinks such a move would put Condi in a pole position for the 2008 presidential race:
Being a sitting vice president places Condi in an impregnable position for the GOP nomination in 2008 and sucks every breath of wind from Hillary's sails. Historically, it's hard for a party to keep the White House after they've had it for eight years. This is George Bush and Dick Cheney's way to buck history – and make it. The possibility of Condi as VP next year comes clear in the context of Dick Cheney's pithy observation of George W. Bush: "He has the biggest set of balls of anyone I have ever known."

Last October, Wheeler hinted at Bush's nickname for Condoleezza Rice: "44". 44? Sure: Daddy Bush was the 41st President of the United States. Bill Clinton was 42nd. Dubya is 43rd, and he nicknames Condi "44". "
He has chosen Condi
", Wheeler goes on, because:
He has two nightmares. He is obdurately determined to prevent America's security being turned over to Hillary Clinton. He is equally determined to prevent it turned over to John McCain. She is straightforward evil and he is dangerously unstable. Condi is his way of preventing either. [...] Condi will re-energize America as she will the world.
There's on "but", however. Condi has to bring the lame State Department firmly behind the War on Terror:
So, all you Condi fans out there, get the message to her: Set the policy of the State Department to be regime change in Damascus and Tehran. She'll never be president unless she does, and we'll have President Hillary instead.
In the heat of the Plame affair, the main stream media
picked up
on the "Condi for veep" trail.
Sure, as Secretary of State, Ms. Rice currently gets at least as much media exposure as vice president Cheney. But the function of vice president would give here ample spare time to get in contact with the public, preparing for the 2008 primaries.