French competition for CNN and BBC

In a few hours,
France 24
is being launched on the internet, to be followed tomorrow with the launch of its two television channels. France 24 is the new state-funded news channel that is to bring "the French viewpoint" to the world and intends to challenge
CNN
and
BBC World
. The website will be trilingual from the start, in English, French and Arabic. On television there will be two parallel channels, one in English and one in French. Arabic and Spanish broadcasts are planned for the future. The new station is the brainchild of French president Jacques Chirac. Frustrated by the dominance of CNN and other "Anglo-Saxon" media on matters that influence world opinion, Chirac announced his plans during his election campaign of 2002.
TELEVISION 2.0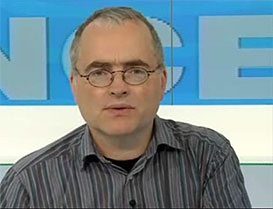 With a staff of 380 and an annual budget of 86 million euros, France 24 is smaller than CNN or BBC World. But by using the power of the internet, the blogosphere and video sharing services, France 24 is hoping to compete in a smart and innovative way. Streaming video will be an important ingredient of France 24's website, as well as interaction with its audience. As Stanislas Leridon, the internet director of France 24, puts it: "every article and every piece of video on our website will be open for comments from readers and viewers".
Last Saturday I was invited to visit France 24 together with
eleven other bloggers from around the world
. I took
pictures
and made a video report. The video report focuses on technical stuff, like the hardware and software used.
While France 24 spreads French values around the world, most of its technical infrastructure is American: computers from
HP
, office software from
Microsoft
,
video
and
news
editing software from
Avid
, web content management from
Magnolia
, video hosting from
Akamai
, and cameras from
Thomson Grass Valley
. European viewers will be able to watch France 24 on the Hotbird, Astra and Eurobird satellites, on cable and through DSL providers. In Washington DC the station is on digital cable and on a digital terrestrial frequency. But the French government is probably hoping to gain the most from the leverage of its new channel in Africa and the Middle East, where France has historic and strategic ties.
"WHAT YOU ARE NOT SUPPOSED TO SEE"
France 24 wants "to show opinion leaders worldwide what they are not supposed to see, know or understand about all aspects of international news".
This animated promo video shows
sheds some light on what this may mean. French politics have always sympathized with the antiglobalist movement (or
altermondialistes
, as they are called in France) which they see as an ally against the dominance of Anglo-Saxon capitalism and as a support for their rather
Colbertist views
on trade and competition.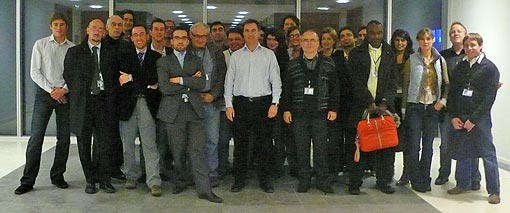 I asked one of the journalists if she could give an example of news "that we were not supposed to see or know" when we are watching CNN. "Take the Orange Revolution in Ukraine", she answered. "It was supported by American money, but you don't hear that on CNN". I asked if France 24 would be critical of French policy. Rwanda's president Kagame was recently indicted by a French court. Would France 24 interview him and give him the opportunity to present his viewpoint, I asked. "Sure, we are already working on that". But I still doubt whether we will see reports about
the practices of the French oil company Total in Burma
. I'll have to watch France 24 closely and judge the product by its reporting.
AUTHENTIC VS. TAILOR-MADE
I don't like CNN International, I prefer Fox News. Not for its ideology, but for its authenticity. The version of CNN that non-Americans see, is totally different from the USA version of CNN. Fox News, on the other hand, broadcasts the same programs all over the world: everyone can see what Americans are seeing. I liked CNN International when they were just starting in the late eighties, because they had to air their US product "
CNN Headline News
" in Europe due to a lack of staff for their international network. I prefer
BBC News 24
over BBC World. Yes, I listen to the BBC World Service, but I would prefer BBC Radio 4 or Radio 5 live if reception were better. I don't like television channels or radio stations that are tailor-made "for the outside world". I prefer to watch or listen to the domestic versions. I want to see what people in foreign countries see, not what their government wants foreigners to see. If I want to know the French viewpoint, I prefer a selection of the television news that French viewers are getting. Oh, that already exists: it is called
TV5
, and it brings a selection of news and other programs from French-speaking broadcasters in France, Switserland, Canada and Belgium. A channel with a mix of programs from existing French television networks, with English dubbing or subtitles, would be cheaper and - in my opinion - more credible than a channel that is especially made "for the outside". But then again, a lot of other countries are doing this: the US with
at least seven tailor-made radio and television stations
targeted towards different parts of the world, the UK with BBC World and the
BBC World Service
, Germany with
Deutsche Welle TV
which has been on American cable (in English) for years. So, this new French channel is not unique and comes late compared with similar initiatives of other countries, but this may give the station a competitive advantage, due to the integration with the web that is woven into its fabric.