Bush in Brussels (5) - Pro and anti-Bush demonstrations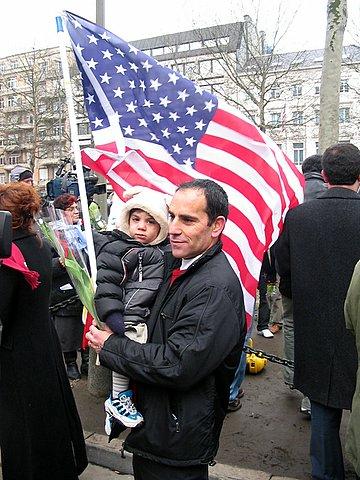 Twenty Belgians and sixty Iraqis demonstrated peacefully in front of the US Embassy on Tuesday morning to show their support and gratitude for president Bush and the people of the United States. Photos courtesy of Corentin de Salle and Joël Rubinfeld of the Atlantis Institute. More photos are available in this Pixagogo album.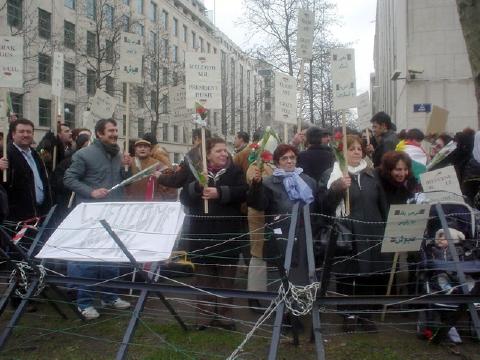 The four anti-Bush demonstrations were less peaceful. On Sunday afternoon, a right-wing group called "Nationalists against NATO" (info in French and Dutch), mostly consisting of skinheads and neonazis, demonstrated against Bush. As they are against "the American way of life which is a multicultural society", they consider the United States as their "cultural enemy" that is "occupying Europe".

The other demonstrations were organized by the "Brussells Tribunal" and by "Stop Bush", a consortium of leftist and antiglobalist organizations, many of which receive millions of charity and taxpayer money each year. One famous signatory of the platform text is "11.11.11", an organization that collects millions of euros each year among Belgian citizens "to help the poor in developing countries". Another well-known signatory is the "Arab European League", whose leader Abu Jahjah demands a.o. the recognition of Arabic as an official language in Belgium (which is rather funny as most islamic immigrants in Belgium are Berber-speaking Moroccans and Turkish-speaking Turks, none of which have Arabic as their first language). But also more prestigious organizations like Greenpeace, Amnesty International, the World Wildlife Fund and Oxfam were part of the anti-Bush platform. For some of them, the refusal to sign the Kyoto Treaty, the detention of enemy combatants at Guantanamo Bay or the rise in defense spending are reasons to participate. Well, if these reasons didn't exist, I'm sure they would have found some others.

One of the more radical groups that participated is Stop USA, which filed a complaint for war crimes at a Brussels court against General Tommy Franks. Pro-USA blogger Dog of Flanders regularly posts about the more debilitating aspects of these moonbats.