Freeway bloggers versus walls of honor and respect
Today, the Belgian leftist newspaper De Morgen had a story on the so-called freeway bloggers, apparently a new phenomenon in the US. Quoting British newspaper The Independent, De Morgen writes:
The messages, posted from overpasses, bridges and verges, are short, pithy and very, very rude.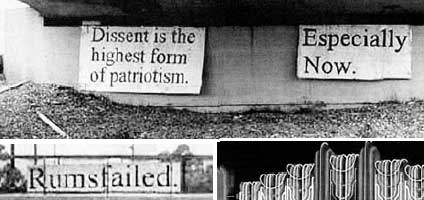 I wonder why the people who post these signs are called "bloggers". A slogan is not a blogpost, nor is a blogpost a slogan. To call these protesters "freeway bloggers" is an insult to bloggers.
What struck me during my visit to the US in November of last year, were the numerous "walls of honor and respect", with pictures from and dedications to servicemen stationed in Iraq and Afghanistan. This is a picture I took in the
Powerhouse Building
in Kingman, Arizona, the building where the
Historic Route 66 Museum
is located.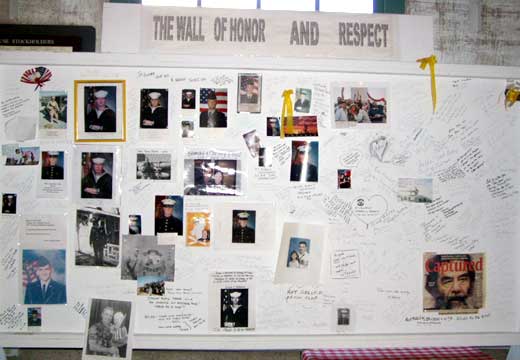 Click here for full resolution image
(1600x1200)
Most of the pictures and messages were respectful, except for one inscription in French that said:
Respect aussi aux innocents Irakiens qui sont morts. La France.
Another Frenchman had scribbled next to it:
Merci pour votre courage. La France.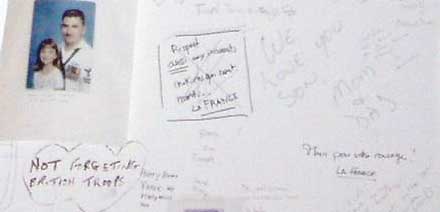 Many of these walls of honor and respect exist, though they are not always called that. To my surprise, googling for the term "wall of honor and respect"
does not give any hits
, while "freeway bloggers"
gives 535 hits
at this moment. Let's change that. The time has come for bloggers to post images of these walls of honor and respect. Please mention the term "wall of honor and respect" in your post, so that we can
trace them through Google
.