McKinsey CEO supports splitup of Belgium, resigns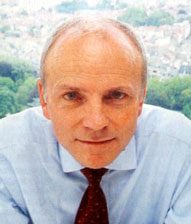 Herman De Bode, McKinsey's CEO in the
Benelux
countries (Belgium, the Netherlands and Luxemburg)
was forced to resign last week
. The 52-year old Mr De Bode, who is also the president of the
Harvard Club of Belgium
, had signed the so-called "Warande manifesto," a text
by a group of 50 businessmen and academics from Flanders
, calling for Flemish independence from the
multinational state
of Belgium. The latter consists of 6 million Dutch-speakers in Flanders, its northern half that borders on the Netherlands, 4 million French-speakers in Wallonia, its southern half that borders on France, and almost 100,000 Germans along its eastern border with Germany. Its capital Brussels, which is also the capital of Flanders and of the European Union, has a French-Dutch bilingual status. The Warande manifesto calls for the transformation of Brussels into a European district, after the example of Washington DC.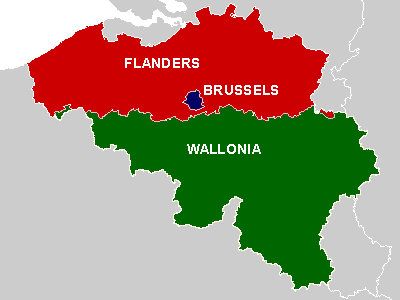 The Warande manifesto proposes transforming Belgium into two states, Flanders and Wallonia. It was published ten days ago by a group consisting of i.a. Remi Vermeiren, the former CEO of
KBC Bank
, one of Belgium's major banks, Baron Hugo Vandamme, the former CEO of
Barco
and chairman of the board of
Roularta Media Group
, Professor Erik Suy, the former Deputy Secretary General of the United Nations, and various other prominent Flemings. None if its members are affiliated with any political party.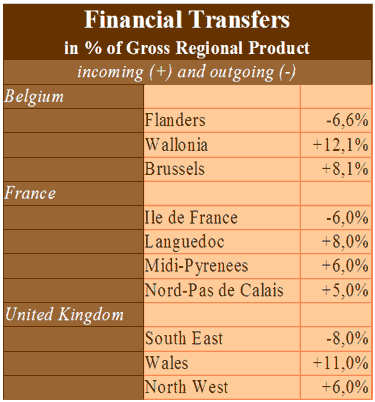 Source: F. Wishlade, "EU Cohesion policy: facts, figures and issues", Oxford University Press, 1996.

The group has calculated that an ever increasing amount of Flemish subsidies is flowing to the south each year (3.8 billion euros in 1990; 10.4 billion euros in 2003). This is bad for Flanders, which is overtaxed, and for Wallonia, which is growing accustomed to a situation of dependency. "Solidarity is a good thing," Mr Vermeiren, the chairman of the group says, "but this is excessive. It allows Wallonia to maintain an unemployment rate of 20% while an additional 10% of the working population is employed as superfluous civil servants."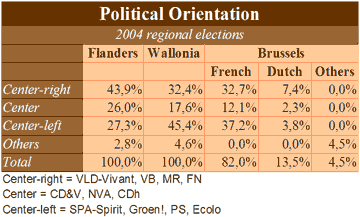 The manifesto – basically a book of 252 pages replete with economic data, charts and graphs – caused indignation in Socialist-dominated Wallonia and among Belgium's Francophone Brussels establishment. The Brussels newspaper Le Soir (26 November) called it "the book that will bury Belgium" and quoted a left-wing, post-modernist Flemish journalist who said the group "has no democratic legitimacy." In La Libre Belgique (1 December) Tony Vandeputte, the former director of the Federation of Belgian Employers, wrote that the group consists of "nostalgic Flemish-nationalists who take advantage of every opportunity to promote their goal." Last Friday the Belgian bishops issued a document saying that "if we do not succeed in maintaining a reasonable degree of solidarity between the North and the South in Belgium, we cannot expect solidarity on a larger, worldwide scale."

Herman De Bode was forced to resign as CEO of McKinsey Benelux on Wednesday, following threats by Francophone Belgian clients of the consulting company, including the Walloon regional government, that they would take their business elsewhere if De Bode remained in function. Mr De Bode pointed out that he had signed the manifesto as a private citizen and as the president of the Brussels chapter of Voka, the organisation of Flemish employers. In a press release McKinsey stated that the company was not involved in the Warande group and takes no position in the political debate about the future of Belgium.

Rudi De Kerpel, a 34-year old Flemish entrepreneur and the owner of several companies, who acts as spokesman of the Warande group, says that Mr. De Bode is the victim of a defamation campaign. "When one sees the slander, the pressure and blackmail that have led to his resignation, one understands why many Flemish captains of industry wait until they have retired before voicing their support for Flemish independence."