Mayor of Leuven refuses to meet Netanyahu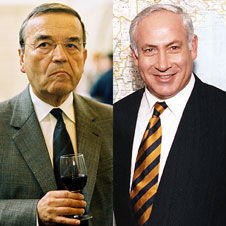 Benjamin Netanyahu, Israel's former and probably
future
prime minister, arrived in Belgium last Thursday for a private visit. On his way back from the United States, where he
talked with Dick Cheney
and
speeched at New York University
, Netanyahu stayed at
the castle of the Merode family
in Westerlo, 50 kilometers outside Brussels. On Saturday and Sunday he visited the Flemish medieval cities of Leuven, Ghent and Brugge (Bruges).
Kristof Debecker, a reporter for the newspaper
Het Laatste Nieuws
, asked the mayor of Leuven if he had considered an official welcome for Netanyahu. Here's what mayor Louis Tobback, a socialist, replied:
Personally, I'm not thrilled at all by this Netanyahu. Receiving him at the city hall is out of the question. Even if he would offer me a glass of beer at a Leuven terrace cafe, I would diplomatically but firmly refuse. Netanyahu is a reactionary right winger. [To his secretary:] When the request comes in, tell him that Tobback's agenda is fully booked for the rest of the week.
The mayor of Leuven is notorious for his provocative language. In 1985 Tobback was the leader of the opposition against the deployment of 48 medium-range cruise missiles in Belgium. A few years later he threatened to throw himself on the tracks of the TGV (high speed train) if its trajectory would pass near a highway in Leuven. The TGV track was built, but Tobback did not move.
(hat tip: Tobback picture copyright
Pieter Baert
)