Democracy is a legal obligation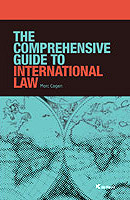 If you want to drill for oil at the North Pole, build an artificial island in the Pacific Ocean, provide telecommunication services from a balloon in the stratosphere, or if you are just looking for a second citizenship, you may need this new book by professor Marc Cogen: "
The Comprehensive Guide to International Law
". Probably, you will need a lawyer too, but this book is written for non-lawyers who are interested in international relations and in the impact of international law in daily life. Professor Marc Cogen explains how the state and international law came into being, what the role of states, diplomacy, treaties and international organizations is in international law, what "the global commons" are, and how international law impacts the life of individuals and the way in which wars are fought.
The book was presented last Wednesday in Brussels. In his speech, professor Cogen explained how the current vision on international law makes democracy not just an option, but a legal obligation for states. He also said that Zimbabwe is one of the test cases for the international enforcement of this obligation.
Current opinio juris considers democracy not as an option but as a legal obligation. This does not mean that undemocratic regimes became the immediate object of a military operation. But it exposes these regimes to sanctioning, blaming and, if necessary and as a last resort, to international intervention.

One of the ongoing test cases is Zimbabwe. Its regime has been under sanctions by Europe and the U.S. although the UN Security Council has not imposed sanctions because African states were against it. However, Africa's commitment to democracy and human rights are at stake here. If the African Union or a sub-regional organization such as the SADC cannot produce regime change in Harare, then the UN or the some important players in the international community will take over the leadership on this issue. Zimbabwe is a test to see if African states really live up to their African agreements such as the African Union Charter.

In the case of Somalia and Sudan/Darfur we have seen recently that African states were not successful in organizing and maintaining troops. Finally these questions were passed over to the UN Security Council which devised a hybrid structure of peace-keeping.

Democracy is firmly rooted in the human rights doctrine: free and fair elections, freedom of association, and freedom of expression. These three rights together are the minimal yardstick. And the most difficult right to uphold is the freedom of expression which proceeds the outcome of elections. I hope that we can undertake more research on democracy in the world.
The above is the official written version of his speech. If you watch this video you will discover some additional statements and comments by professor Cogen on this matter.