Rice with Belgian fries, please!
On Wednesday, Condoleezza Rice arrived in Brussels to visit NATO headquarters. She also had a meeting with the European Commission, with Belgian prime minister Guy Verhofstadt and minister of foreign affairs Karel De Gucht.

Around 11:15 am, while Air Force Two the modified Boeing 757 was taxiing on the tarmac and officials were preparing to welcome the Secretary of State, Secret Service Diplomatic Security Service personnel and Belgian protocol officials were quarrelling about how close reporters could approach the plane.

Let's have a look at some screenshots from Belgian commercial TV station VTM (see below).

UPDATE 1: The complete newscast is available until Tuesday as a Windows Media stream. The Rice item starts at 17:30 in the cast. Broadband - Narrowband.

UPDATE 2: On this video (Windows Media, 30 seconds, 1 MB) you can see the same incident but from a better perspective.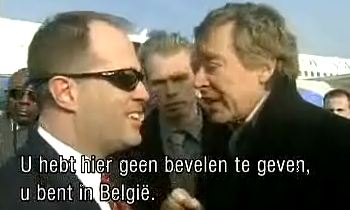 "You don't have to give orders here, you are in Belgium!"
(bad English, translated from: "vous n'avez pas à donner des ordres ici", i.e. it's not your business to give orders here)

UPDATE 3: After the US agent involved in the incident told his side of the story on my blog, several Belgian newspapers (De Standaard, Het Nieuwsblad) have written about it, with a reference to this blog. Later this week, I will write a followup, comparing the version on this blog with what the newspapers made of it.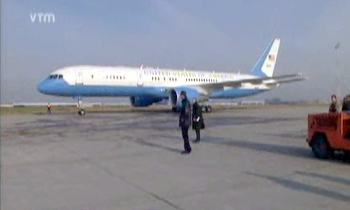 Air Force Two The plane is taxiing on the runway at Brussels airport.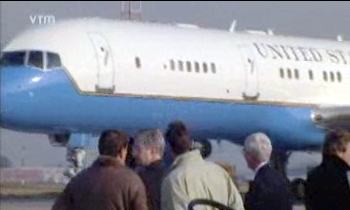 Members of the Belgian press are coming very close to the plane.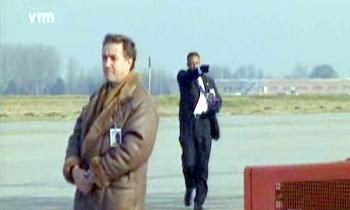 US secret service diplomatic security agents are getting nervous... Apparently they order Belgian reporters to pull back.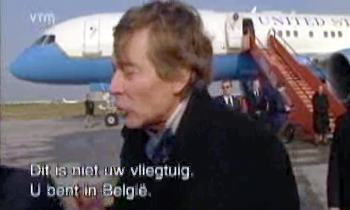 A Belgian protocol chief disagrees: "This is not your plane..."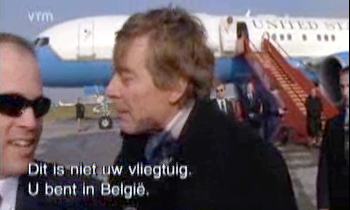 "... you are in Belgium!..."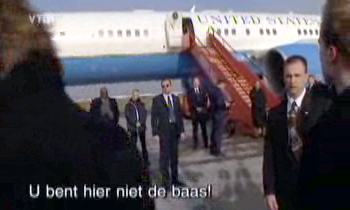 "... we are the boss here ..." (Belgian TV translates: "you are not the boss here")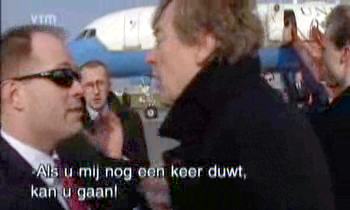 US secret diplomatic security service agent: "If you push me again ..."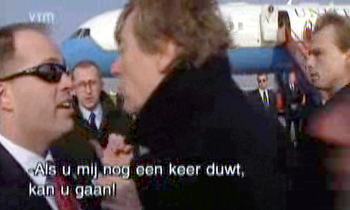 "... you're gonna go!"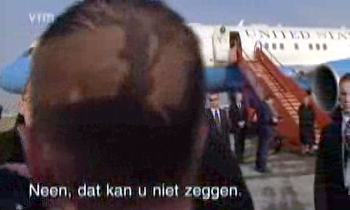 Belgian protocol assistant: "No, you don't say that!"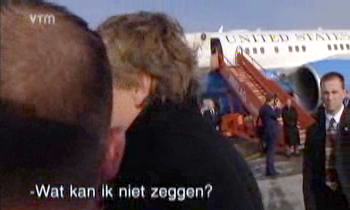 US secret diplomatic security service agent: "Don't say what?"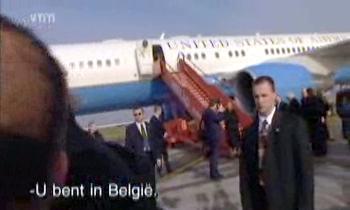 Belgian protocol chief: "You are in Belgium!"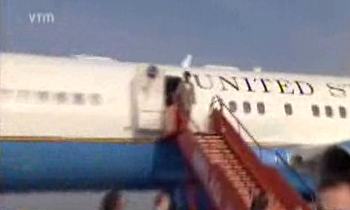 While they are still quarrelling, Condi appears in the doorway.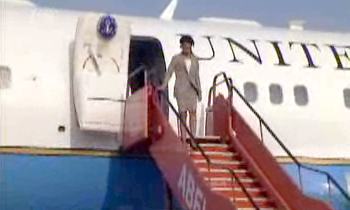 There she comes.

In ten days, Air Force One will be landing at the same airport, carrying George W Bush. Stay tuned, we'll keep you posted...