The Cola Index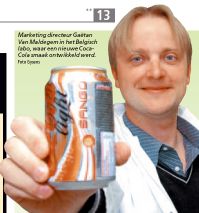 Did you know that Belgium is the country with the highest consumption of Diet Coke (or "Coke Light", as it is called in Europe) per capita, with an average of 85 portions per year? That is the reason why The Coca-Cola Company has chosen Belgium and Luxembourg to test-launch a new variety of the drink:
Coke Light Sango
.
And did you know that Diet Coke and Diet Pepsi (called "Pepsi Max" in continental Europe and "Pepsi Light" in the UK) are based on
aspartame
, an artificial and low-calorie sweetener? And did you know that
Donald Rumsfeld
was the CEO of GD Searle the company that invented aspartame, at the time the FDA gave its approval for the use of it in food and drinks?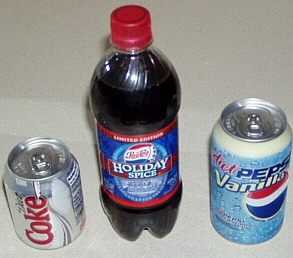 Anyway, when I was in the States last november, I was amazed by the high number of available tastes in cola drinks. That is why I invented the "Cola Index", in an analogy with the
Big Mac Index
. Not to be confused with that other COLA index, the
Cost of Living Adjustment
... The Cola Index should be an indicator for the choice consumers have in a country, and of the level of participation in the globalization of the economy. Yes, you'll tell me that in Italy, people have an incredible amount of choice between different models and tastes of pizza, but we're talking about global brands here, about global consumerism, and about global penetration of the products of multinationals. And we're not talking about so-called "fair trade", nor about how wonderful those local or regional products are. By the way, The Economist not only invented the Big Mac Index, but also found
a correlation between cola consumption and wealth
.
So, my definition of the Cola Index is: the number of different product names of cola drinks from Pepsi-Cola Inc. and The Coca Cola Company. When counting, you can accumulate your count in space (i.e. varieties that are only available in a certain region do count), but not in time (i.e. a special Christmas variety and a special summer variety which are not sold year-through, do not count as 2, but as 1). We don't count products from other producers, like Dr. Pepper, nor do we count non-cola drinks from Pepsi and Coca Cola, like Fanta.
For the United States, I found a Cola Index of 22. For Belgium, it will probably be somewhere between 10 and 20 (
but hey, we've got designer cola cans!
). Norway has a Cola Index of less than 7,
an expert told me
.
| | | |
| --- | --- | --- |
| | Coca-Cola | Pepsi |
| regular | Classic | Pepsi |
| sugar-free | Diet Coke | Diet Pepsi |
| caffeïne-free | Classic Caffeine Free | Pepsi Caffeine Free |
| sugar-free & caffeïne-free | Diet Coke Caffeine Free | Diet Pepsi Caffeine Free |
| 50% sugar | C2 | Pepsi Edge |
| 1 calorie low sugar | | Pepsi One |
| vanilla flavor | Vanilla Coke | Pepsi Vanilla |
| vanilla flavor & sugar-free | | Diet Pepsi Vanilla |
| cherry flavor | Cherry Coke | Pepsi Wild Cherry |
| cherry flavor & sugar-free | Diet Cherry Coke | - |
| lemon flavor | - | Pepsi Twist |
| lemon flavor & sugar-free | Diet Coke with Lemon | Diet Pepsi Twist |
| lime flavor | - | - |
| lime flavor & sugar-free | Diet Coke with Lime | - |
| seasonal | - | Pepsi Holiday Spice |
| TOTAL | 10 | 12 |
| Cola Index for country: USA | 22 | |
I'm interested in any correction or addition to the US Cola Index, and in the Cola Index of
your country
.