Smart car, smart ad?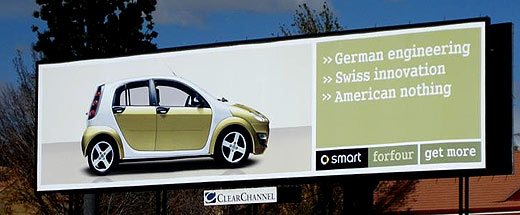 German Engineering. Swiss Innovation. American Nothing. Smart.

Photographed by Arthur Williamson, one of our readers in Johannesburg, South Africa. Cheap anti-Americanism? From a subsidiary of DaimlerChrysler, a company with a major American component?

To prove that the pictures are not fake, here's a video.

UPDATE:
Marketing whizzkid Coolz0r calls it "lame copywriting" and suggests adding the slogan "American Money".
Neandernews calls it "capitalizing on the all too prevalent anti-Americanism"
On Gateway Pundit, a comment from reader Ben who helped design the ad.