Belgian citizen files complaint against anti-Bush sticker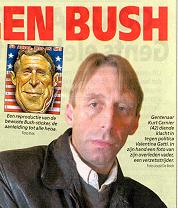 Shortly before president Bush visited Belgium, a socialist youth organization distributed
thousands of stickers showing the Stars and Stripes and the head of president Bush, with the text "Go ahead, piss on me!"
. The campaign was exposed and uncovered to the world by
The Daily Standard in an article by Belgian publicist Paul Belien
.
The article briefly mentioned that a citizen of Ghent had filed a complaint against people distributing the sticker. We now have more details about the identities of the plaintiff and of the defendants. The complaint was filed by 42-year old
Kurt Carnier
. Why did he do it? He explains his legal action in an email:
My father was a policeman during World War II, and for his activities in the resistance he received several medals. His brother survived a concentration camp but suffered severe physical problems for the rest of his life. Look at the huge number of graves of American soldiers, sometimes of age 17 or less, who gave their lives for our freedom. I am really ashamed to be a Belgian after this humiliation and insult to a friendly nation that has helped us. It was not their war, but still they gave their lives to protect our democracy.

I had the honor of doing my military service in Kleine Brogel [LVB: air base in Belgium where US nuclear weapons are being stored] , where I served under U.S. command in the US Air Force Munitions Support Squadron (MUNSS) 7361. There, I learned a lot about the way of thinking of the American soldiers. I was treated very well and I made many friends.

I have informed the US Embassy in Belgium about this disgraceful campaign, and I have offered them my apologies on behalf of all non-radical Belgians. I hope that the Embassy will join me in my complaint against this defamation of the flag and of the nation.

Carnier's complaint is aimed at the Flemish Socialist Party ("
SP.A
"), at the Young Socialists ("
Animo
"), and at
Valentina Gatti
, a member of Animo. Gatti was shown on television, distributing some 5,000 stickers in and around the city of Ghent. Allegedly she fixed many stickers to toilets in bars, restaurants, pubs and public places, without the consent of the owners.
According to Carnier's attorney, Mr Luc Boxstaele, the complaint was based on a law dating from 1852, prohibiting insults against foreign heads of state. However, this law was recently abolished in an effort to simplify the legal system and administrative requirements, a campaign called
Kafka
. The abolition of the law was published in the Belgian State Gazette (comparable to the Federal Register in the US) less than two days after Carnier had filed his complaint.
So the legal basis for the complaint has now become weak, if not void. As Belgian blogger and former attorney
Francis Devriendt
puts it in
a comment
:
Under Belgian law, when a law is made more severe, it can never be invoked retroactively. But when a law is made less severe or when it is abolished, the modification has to be taken into account in court even for facts which happened before the modification. So if a judge would have to decide on this case (which will never happen, because the District Attorney is also aware of this principle), he would have to declare the defendants 'not guilty'.
On my Dutch-language (or "Flemish", as
some
like to call it) blog, I
commented
on the moral ground for this complaint:
Yes, American soldiers gave their lives in both World Wars, so that political groups of all kinds would be free to express their opinion freely. Opinions that are offensive to friendly governments or friendly heads of state, should be allowed to be expressed freely.
Yes, I find the sticker disrespectful, but, as the great American journalist Henry L. Mencken once wrote (hat tip to Paul Belien for this quote):
The trouble with fighting for human freedom is that one spends most of one's time defending scoundrels. For it is against scoundrels that oppressive laws are first aimed, and oppression must be stopped at the beginning if it is to be stopped at all.
The Young Socialists may be scoundrels, but we should defend their freedom of expression, so that our own (in my case,
anti-socialist
) freedom of expression is not hindered. I want to be free to make and distribute a "
Piss on Castro!
" sticker, if and when I want to. Of course, I would agree that I am not allowed to fix it to walls or toilets without permission of the owner. However, the complaint filed by Mr Carnier only mentions the law prohibiting insults against foreign heads of state, and not the damaging or disfiguration of property.
Kurt Carnier can be contacted by e-mail at
Captainkurtje@hotmail.com