Reaganomics, a success story (2)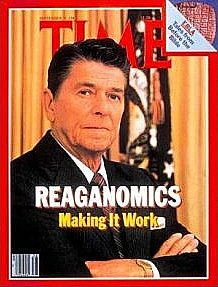 The
first part
of this three-part series introduced the concept of supply-side economics, and exposed the flaws in the Keynesian practice of stimulating demand. In this second part, we examine some often heard criticism of Reaganomics. Willy De Wit, a retired financial consultant and a Belgian expert on Reagonomics, is our guide.
Willy De Wit: "
During the Reagan Presidency (1980-1988) an economic revolution unfolded. An almost unprecedented welfare expansion took place with (a.o.) the creation of 18 million new jobs. The understanding of the mechanism behind this economic miracle is of the utmost importance. It can give us some tools for the necessary revival of the economy in Western Europe
".
The third part, which will soon be published, will deal with the Laffer curve, will put Reaganomics in a historical perspective and will show how Reaganomics could be applied in Europe.
THE POOR GOT POORER AND THE RICH GOT RICHER?
"
Reagan gave money away to the rich, at the expense of the poor
", many critics claim. The table below proves the contrary. At the end of the Reagan presidency, the rich paid comparatively more taxes than before. As for the poor, their share in total tax revenues decreased. There was a simple reason for this: the lower tax rates were an important incentive for the rich to expand their economic activity.The tax base had become broader, and the lower rate on the broader tax base resulted in higher tax revenues.








Percentage of paid income tax
Income
Percentage of taxes paid


1984
1986
1987
$0 - $15,000
5.8%
4.0%
2.8%
$15,000 - $30,000
21.1%
16.8%
14.7%
$30,000 - $50,000
29.0%
25.9%
23.0%
$50,000 - $100,000
22.0%
24.3%
27.7%
$100,000 - $200,000
8.6%
10.2%
11.9%
+$200,000
13.4%
18.9%
19.8%


100.0%
100.0%
100.0%
Source: IRS
In the table below we can see that the poor benefited most from the economic growth. Not only did they pay less taxes, but the 20% poorest people enjoyed an increase in income of 77 % in 9 years.








Incomes and Social Mobility
(1991 dollars)
Average Family Income of 1977 Quintile Members in
1977 Quintile
1977
1986
% Change
Bottom 20%
$15,853
$27,998
77%
Second 20%
$31,349
$43,041
37%
Third 20%
$43,297
$51,796
20%
Fourth 20%
$57,486
$63,314
10%
Top 20%
$92,531
$97,140
5%
All
$48,101
$56,658
18%
Source: Urban Institute
HAMBURGER JOBS?
Critics claim that the growth in employment was realized mainly through the creation of crappy "hamburger jobs". De Wit: "
This is not correct. Universities could not follow to deliver enough high qualified graduates. As you can see in the following table, job growth was mainly in managerial functions. Low paid jobs in services increased very little and in farming, employment decreased
".








Job Creation in the Eighties
Jobs Created, Jan. 1982 – Dec. 1989
Job Category
Number (Mils.)
Percentage Increase
1989 Median Earnings
Managerial/Professional
7.600
33.10%
$32,873
Production
2.194
19.00%
$25,831
Technical
6.630
21.80%
$20,905
Operators
1.374
8.20%
$19,886
Services
2.210
16.80%
$14,858
Farming
-0.116
-3.70%
$13,539
Total
19.892
20.30%
$23,333
Source: Bureau of Labour Statistics (employment), Census Bureau (earnings)
ENORMOUS PUBLIC DEBT?
It is often claimed that the budget deficit had risen to enormous proportions during the Reagan years. But between 1981 and 1989 the budget deficit increased only slightly, from 2.6% to 2.9% of GDP. The deficit peaked in 1983 to 6.1% of GDP (the Volcker recession with tight money). During the same years the Belgian budget deficit varied between 7% and 13% of GDP. The average budget deficit for the G-7 countries was only slightly lower than that of the US.
The public debt of the US as a percentage of GDP, remained below that of the G-7 countries, i.e. below 32% of GDP. But Belgian public debt, the result of years of Keynesian policy, was higher than 100% of GDP and remains around 100% at this moment.
Net Public Debt as a percentage of GDP


1983
1984
1985
1986
1987
1988
USA
24.1%
25.2%
27.3%
29.6%
30.9%
31.2%
G7


28.4%
29.8%
31.4%
32.9%
32.7%
31.8%
Belgium
103.2%
108.2%
112.3%
116.7%
121.4%
123.1%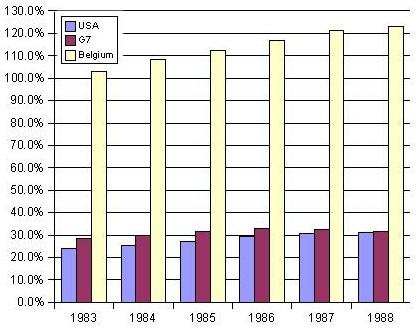 WHY THE CRITICISM?
It seems strange that these figures and these facts are not better known, says Willy De Wit. But probably it is not surprising, when we consider that a right wing ("conservative") president discredited the left wing ("liberal") economic policy. Increasing social outlays doesn't make sense when you have previously created unemployment and poverty with a wrong economic policy. Reagan has shown that the redistribution of wealth with high tax rates brings no solution. Instead of redistributing wealth, it distributes poverty. The main reason for the opposition to Reagan's economic policy, was nevertheless that this policy was completely misunderstood at that time, mainly by the economic establishment. They did not see the fundamental difference between Keynesian thinking to stimulate demand, and the new supply-side approach by Ronald Reagan.
Keynesian thinking explained the economic achievement in terms of the level of spending. Deficit spending will keep employment high and will stimulate the economy. Cutting the deficit (for the Keynesians) would reduce spending and throw people out of work, raising the unemployment rate, reduce national income and hence produce less tax revenues. Reagan on the contrary brought a totally new perspective to economic policy. Instead of putting the emphasis on spending, supply-side economists showed that tax rates directly affect the supply of goods and services. Lowering tax rates mean better incentives to produce, to save, to invest and to take risks. In other words lower tax rates stimulate supply and not demand. The broader tax base will compensate at least partially for the lost revenue, caused by the tax cut. Higher savings will result in increased investment and unemployment will disappear. Instead of pumping up demand to stimulate the economy, reliance would be placed on improving incentives on the supply side.
The entire economic profession, along with the media could not believe that a former movie actor could come up with a revolutionary economic policy that completely contradicted the famous Keynesian theory. The reaction was fierce.
Another reason is that public opinion and most of the politicians in Europe are against the US. Roland Leuschel, a Belgian investment stategist with German roots and a good friend of Jack Kemp with whom he wrote a book in German, "
Die Amerikanische Idee
" (which was also published in Dutch but is out of print), dedicated a complete chapter of this book to this phenomenon: "the favorite sport of the European intelligentsia: anti-Americanism".
REAGAN, NOT THE FIRST AND NOT THE ONLY ONE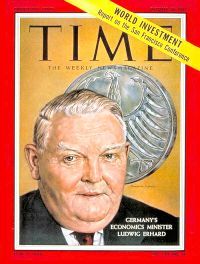 Ronald Reagan was not the first government leader to practise supply-side economics, says Willy De Wit. After World War II Ludwig Erhard put in practice supply-side economics in Western Germany in 1948. At that time he was in charge of economic policy. He introduced an economic shock therapy completely in line with Reaganomics. He abolished rationing and price-controls, although he restricted his own power with this measure. Erhard believed in the self regulation of the market. Not only the Social Democrats were vehement opponents of the abolishment of price-control, but also Lucius D. Clay, the US. military governor, was furious. Erhard had pushed through the economic deregulation without ever asking the general. Clay called Erhard to account, thundering that the professor had infringed upon the Allies' privileges by changing the rationing regulations. Erhard coolly responded : "
you are mistaken, sir, I have not changed them, I have abolished them
."
Later on Erhard, as secretary for the economy, cut the high marginal tax rate in two steps: first from 95% to 63% and afterwards to 53%. The first 8000 DM earned became tax free.
The decisions taken by Ludwig Erhard allowed West-Germany to rebuild itself at a pace never seen before. No surprise that he was called the "
father of the wirtschaftswunder
".
The German economic miracle cannot be explained by the Marshall Plan. Britain and France received Marshall money too, but they wasted their chances. Britain voted Labour, which brought rationing and price controls. France opted for economic protectionism, which prevented Marshal help to be used in an efficient way.
After Reagan, the theory of supply-side economics was applied in numerous countries. In Iceland, David Oddson became prime minister in 1991. He inherited a poorly performing economy burdened by heavy income taxes. He lowered the corporate tax rate from 50% to 30%. During the next five years the economy grew by 5% per year. Government income did not fall and social outlays could be maintained.
Ireland is another example. In 1987 this country was the "sick man" of Europe, with a public debt of 135 % of GDP. After the elections of 1987 a new economic policy was introduced. Corporate tax rate was reduced from 32% to 12.5% and capital gains tax was lowered from 40% to 20%. Ireland is now the fastest growing country of the EU. Japan, to the contrary, is a classic example of the failure of a Keynesian demand-side policy. The economy has been in shambles for many years and public debt has risen to a gigantic 170% of GDP.
The following graph compares government spending and GDP per capita in Ireland and Belgium between 1960 and 2003. The Irish 'turning point' came with the adoption of supply-side economics.