Talk radio
When I'm in the US, I like to listen to talk radio on AM. It's a phenomenon that is not well known in Europe and whose political impact in the US can hardly be overestimated. Our own Flemish talk radio icon Jurgen Verstrepen is a wussy compared to what guys like Michael Savage, Rush Limbaugh or Shawn Hannity are broadcasting over the airwaves. Verstrepen's current problems with the authorities are more revealing about Europe's unwillingness to allow freedom of speech, controversy and a "clash of ideas" along a broad spectrum of political opinions, than about Verstrepen's alleged "arrogance", "intolerance", "extremism" or "hate speech".

Last September, I was in an hour-long interview with talk show host Dennis Prager, aired nationwide on the Salem Radio Network. Dennis was in the studios of KRLA in Los Angeles, but I recorded the show from the stream of WIND in Chicago. Last November, I saw a billboard in the vicinity of LAX airport, promoting KRLA. "Liberals might not like it", the poster said. I always have to explain to some of my European friends that in the US, "liberal" means "leftist", while in Europe it usually means "pro free-market". Unfortunately I was not able to take a picture of that billboard, but thanks to Ilya Vedrashko I found a similar picture with a billboard for WIND Chicago.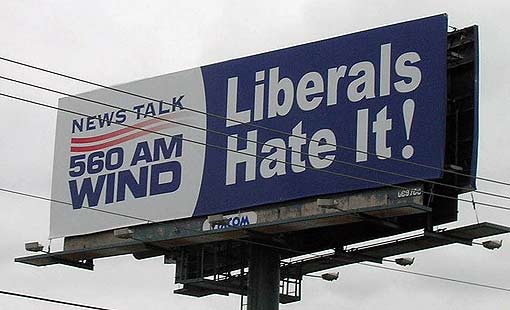 Last week, I saw this billboard in San Diego, promoting the leftist radio network "
Air America
".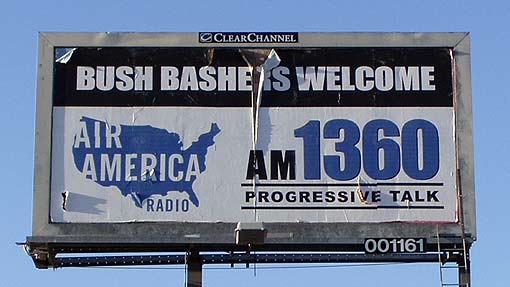 And, oh irony, the Air America poster is on a billboard from Clear Channel,
demonized for its connections with Bush
, while the WIND poster is on a billboard from
"liberal" Viacom
. Bad day for conspiracy theorists, isn't it?