Missing Man Formation for Memorial Day
Earlier this afternoon four F-15 fighter jets from the U.S. Air Force flew over my hometown of Waregem, performing the famous "missing man formation".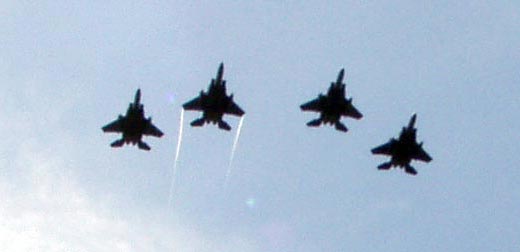 Arriving, flying in formation...




A few seconds later, one of them had left the formation (flying straight to the heavens).

[Tags: Memorial Day Waregem NATO]


The same pictures, but from a wider angle: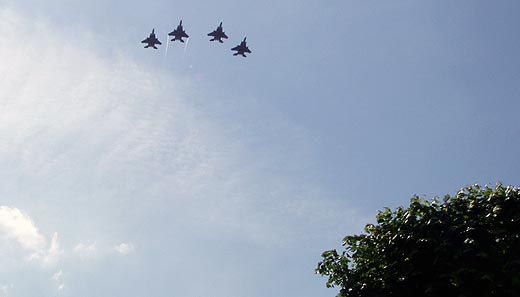 The F-15E "Strike Eagle" fighters are based at the RAF Lakenheath air base in the UK, and were coming from Margraten in the Netherlands where they did a similar flyover.

This was very difficult to photograph, especially with a digital camera that has a large shutter lag. It all happens in a few seconds, it's moving very fast, and the roaring noise seems to come from a different place than were the jets really are. Maybe Tom Korologos, the U.S. ambassador to Belgium, has better pictures, since he seems to have a Contax Rangefinder camera.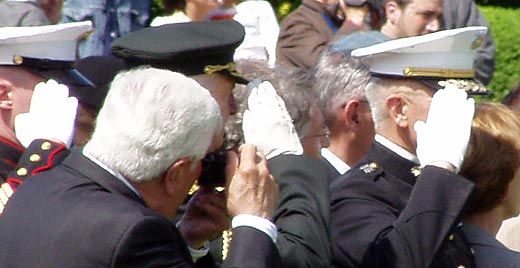 As Lieutenant General Edward Hanlon Jr. (right) is saluting, ambassador and former journalist Tom Korologos (left, white hair) is taking pictures.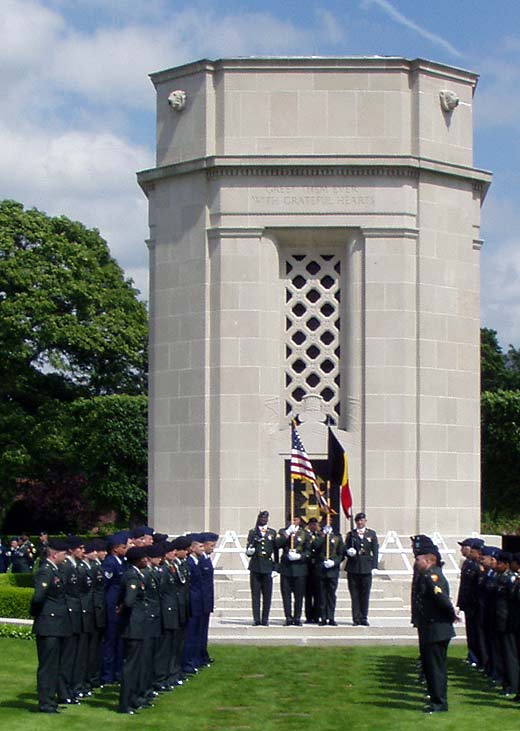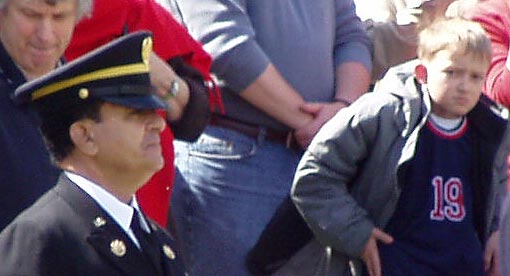 Saad-Eddine Kaddi (left) is the new superindentent of the "Flanders Field" American cemetery in Waregem. His predecessor was Hubert Caloud. Saad-Eddine Kaddi was born in Casablanca, Morocco, en has served 24 years in the U.S. Air Force. Before moving to Europe, he lived in Apache Junction, Arizona.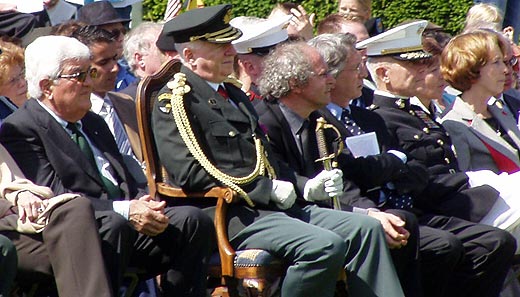 Some of the personalities attending the Memorial Day ceremony in Waregem. Left to right: ambassador Tom Korologos; a representative of the Belgian King, sitting in a special chair (the name of this representative was not mentioned, nor could it be found in the press reports of this event); federal minister Renaat Landuyt; supreme court judge Erik De Rijcke; lieutenant general Edward Hanlon Jr.

More information about Memorial Day in Waregem and the "Flanders Field" cemetery can be found in the blog post I wrote last year.